Do you need a quick reference for Microsoft Excel 2019? The four-panel Excel 2019 Reference & Cheat Sheet contains tips, examples, and screenshots of basic Excel functions and features. A list of keyboard shortcuts for Windows and macOS is also included. Fully recyclable and designed for readability.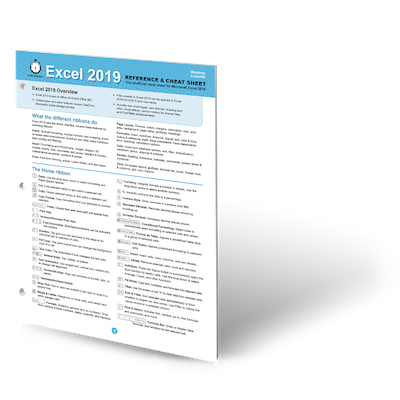 What's Inside
New features of Excel 2019
An overview of Microsoft's Ribbon interface.
Annotated list of Home tab features and settings with the new Excel 2019 icons.
Creating and saving workbooks.
How to add, edit, and hide data.
How to import and export .txt, .csv, .tsv, and .xls files.
How to use static cell references.
Setting the Excel print area.
Examples of basic formulas, functions, and AutoFill.
How to perform simple math and calculate averages.
How to sort and filter data.
How to create a chart or graph.
Universal keyboard shortcuts for Excel 2019.
How to buy the Excel 2019 Cheat Sheet
The four-panel reference is printed on 8.5 by 11 inch high-quality card stock, perfect for desks, walls, and shelves. It has holes for three-ring binders. Fully recyclable and designed for readability.
Purchase the Excel 2019 Cheat Sheet on the IN 30 MINUTES cheat sheets shop or Amazon, or download the PDF version which can be read on any screen or printed out.
The Excel 2019 Reference and Cheat Sheet was created by the publisher of the award-winning IN 30 MINUTES guides and is based on Excel Basics In 30 Minutes.